Prof. Khurram from COEIA Delivers a Keynote at the Forum on "Innovation and the Fourth industrial Revolution"
University of Jeddah, represented by its College of Computer Science and Engineering, organized a forum entitled, "Innovation and the Fourth industrial Revolution", under the patronage of Vice Rector for Graduate Studies and Scientific Research Prof. Obaid Al-Modaf. The objective of this forum was to discuss innovations through scientific research and education that will fundamentally change the way we live, work, do business, and relate to one another.
In the opening speech, the Vice Rector for Graduate Studies and Scientific Research, welcomed speakers and audience to the forum and highlighted the importance of scientific innovations in the era of fourth industrial revolution, and discussed how University of Jeddah is contributing through its initiatives to transform Saudi Arabia into a knowledge-based economy. He also stressed the value of new frontiers of research and development in the growth and prosperity of the Kingdom of Saudi Arabia.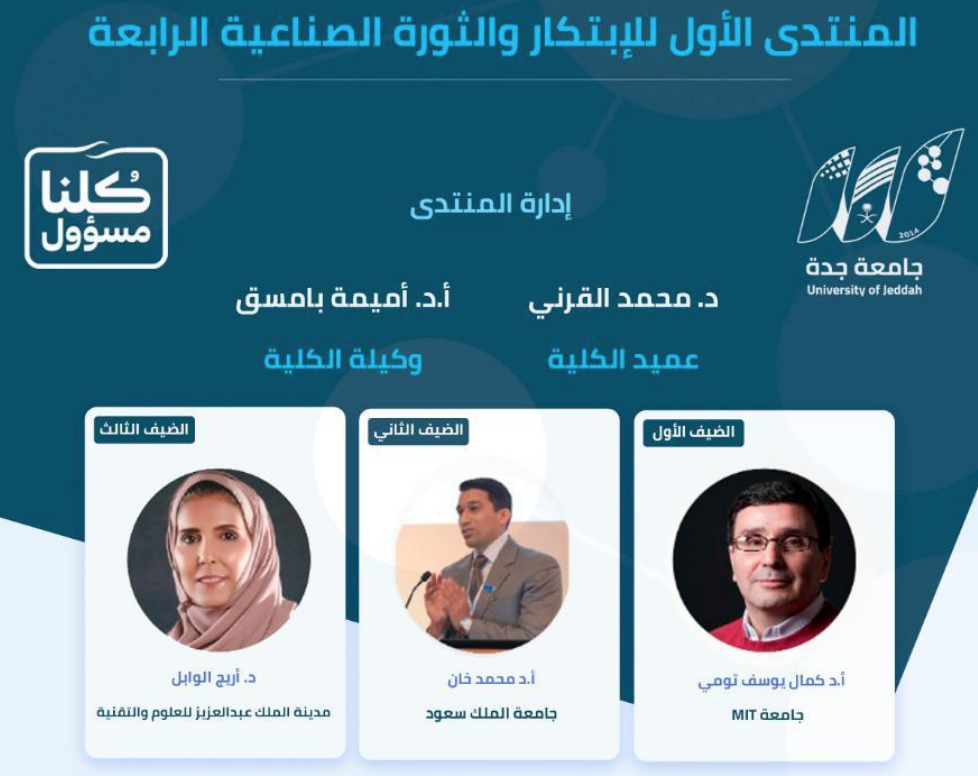 Following the opening session, Dr. Mohammed Alqarni, the Dean of College of Computer Science and Engineering at University of Jeddah presided over the keynote speeches session. A panel of distinguished keynote speakers were invited at the forum, including Professor Kamal Youcef-Toumi from Massachusetts Institute of Technology (MIT) USA, Professor Muhammad Khurram Khan from Center of Excellence in Information Assurance (CoEIA) at King Saud University, Saudi Arabia and Dr. Areej Alwabil from KACST, Saudi Arabia.
In the keynote session, Prof. Kamal Youcef-Toumi delivered a speech on "Forces of Change in the Digital Age", in which he discussed the importance of digital transformation, which would have overwhelming impact on our lives, society and industry, and would bring enormous benefits and substantial investments for prosperity. He further stated that the fourth industrial revolution (4IR) will create abundance of opportunities including higher competitiveness, operational effectiveness, cost reduction, flexibility and improved worker safety along with better positioning in the global value chain. Prof. Kamal also discussed the innovation ecosystem of MIT and underscored the importance of research and development for the development of a nation and society, especially in the local context of Saudi Arabia.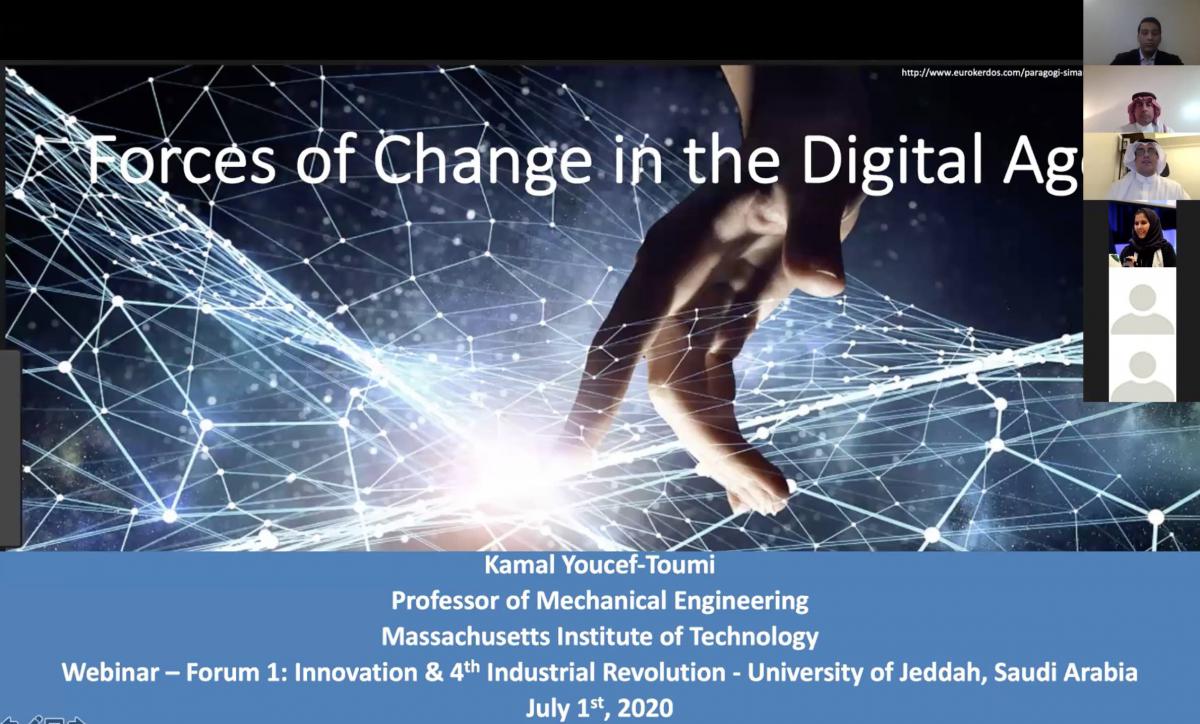 In the next keynote, Prof. Muhammad Khurram Khan presented a speech on "Cybercrime Ecosystem in the Digital Economy: Challenges and Recommendations" and discussed the dark side of cyberspace, which is full of criminal activities by threat actors who could be individual hackers, organized criminal organizations/groups, and even state-sponsored adversaries. He further discussed, "In an ever-changing digital landscape, cyber threats are evolving with greater magnitude and sophistication. As we are innovating our strategies to protect systems and softwares from cyber-attacks so do the cyber attackers with respect to evolving targets and techniques. As far as evolving targets are concerned, the information theft has always been the most expensive and fastest rising consequence of cybercrime. In in the modern connected world, the new attack targets are industrial control systems, safety instrumentation systems, IoT and 5G networks which are backbone of the fourth industrial revolution and critical infrastructure".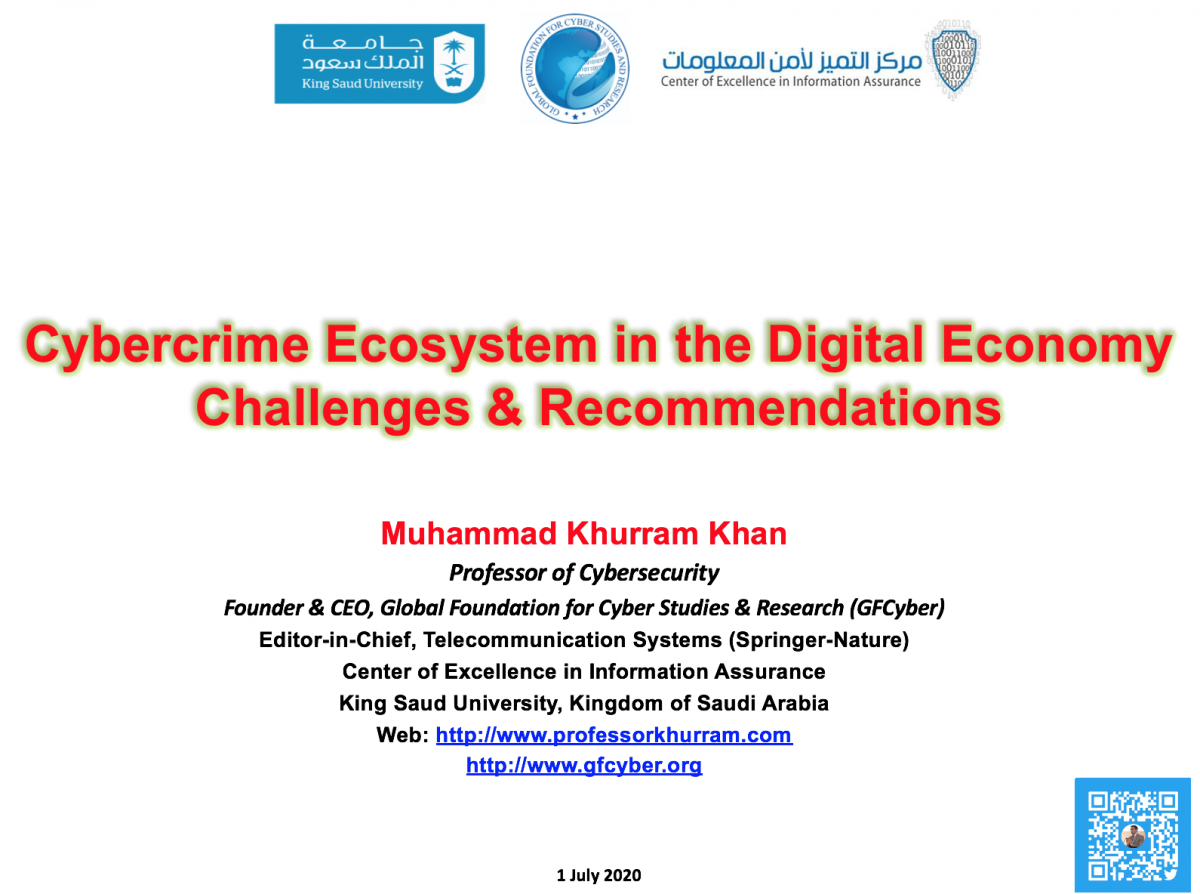 In the continuation of his speech, he said, "The cybersecurity industry is facing an increasingly widening skills gap and gender disparity that has left many organizations even more vulnerable to breaches and cyber-attacks. Therefore, organizations are pursuing numerous ways to close the talent gap in both the short and long term – including launching new academic programs, technical and vocational initiatives, apprenticeships, certifications, and early education. According to Cybersecurity Ventures, there will be 3.5 million unfilled cybersecurity jobs by 2021, and this profession has got more attention during the current COVID-19 pandemic when work from home, distance/online education, and most of our daily life activities have gone in the cybersapce and consequently, the attack landscape has grown exponentially".
To give a way forward, Prof. Khurram further explained, "We need to work in a triple helix-model of innovation where universities, industries and public sector organizations should work together to address the cybersecurity challenges and problems. It is imperative to launch outstanding cybersecurity academic and hands-on training programs to prepare skilled cyber workforce, and establish capacity and capability building programs at national level. These academic and scientific initiatives should be strengthened by establishing world-class R&D initiatives to support scientists, researchers, engineers and professionals to spur innovation and entrepreneurship that could underpin the cybersecurity industry locally as well as globally. We could only defeat the cybercriminals when all stakeholders work together in collaboration from academia, industry, public sector, business organizations, civil society, and law enforcement agencies".
In the last keynote, Dr. Areej Alwabil presented a speech on "Innovation & IP at the Core of the 4th Industrial Revolution" and discussed different technologies that are underpinning industry 4.0 for innovation and competitiveness. She discussed that an organization's innovation capacity depends upon its competitive advantage by securing intellectual property and innovative technologies. By highlighting the importance of inventions, she elaborated on that patents foster innovation and drive the economic growth of a nation that's why national industrial development and logistics program has laid down an IP strategy to support research, development and innovation in the local institutions. At the end of her speech, Dr. Areej discussed some challenges faced by innovators through the IP system and innovation policies in the digital era.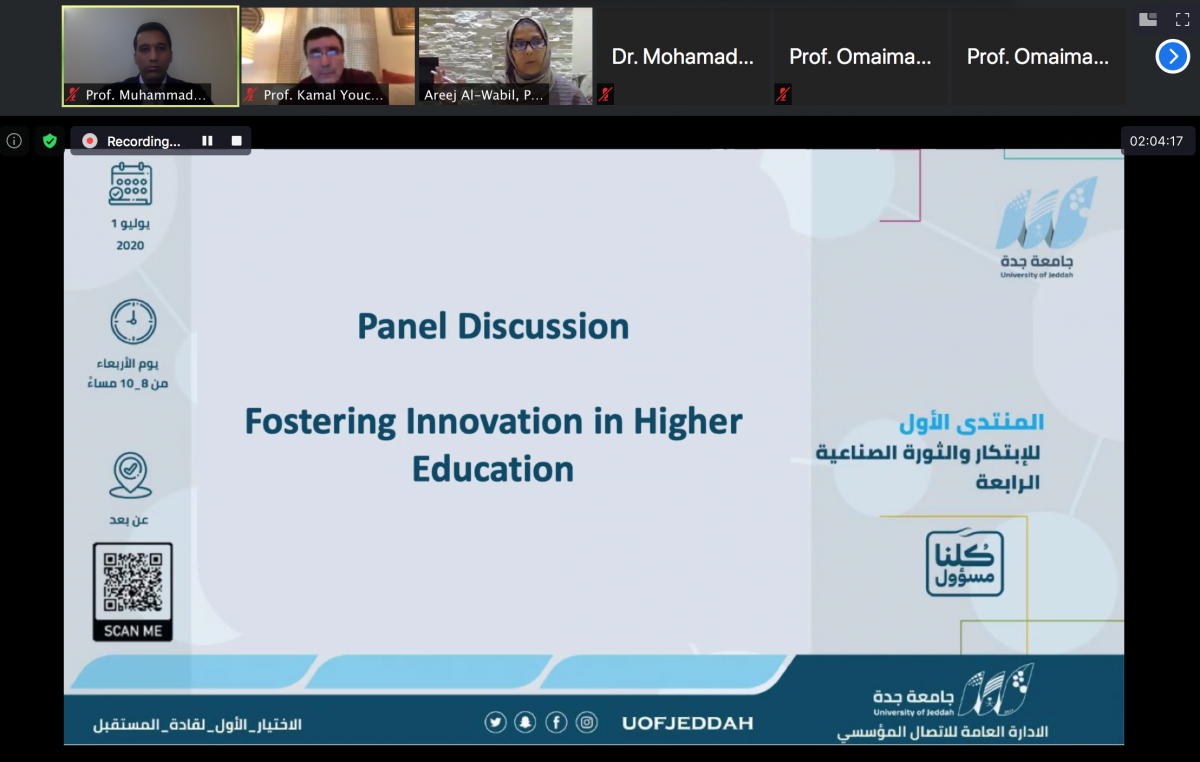 The forum was followed by a panel discussion  on "Fostering innovation in higher education", moderated by Prof. Omaimah Bamasak, the Vice Dean of College of Computer Science and Engineering at University of Jeddah, in which panelists discussed how local academic institutions, private and public sector organizations could harness the power of creativity and innovation for a consistent growth towards building a knowledge-based economy. The panelists underscored the importance of building new and restructuring existing programs, which should make real societal impact through innovations and creativity.
The event was attended by a large number of online attendees from Saudi Arabia and abroad and ended with a hope to continue it annually to exchange ideas and learn from leading global experts.