King Saud University Gets a US Patent on Automotive Cybersecurity
King Saud University has received a US patent for an invention on automotive cybersecurity by a research team, consisting of Prof. Muhammad Khurram Khan and Dr. Wazir Zada Khan, from the Center of Excellence in Information Assurance. The invention, entitled "Device for Facilitating Managing Cyber Security Health of a Connected and Autonomous Vehicle (CAV)", is registered by the United States Patent and Trademark Office (USPTO) under patent number 11,271,971.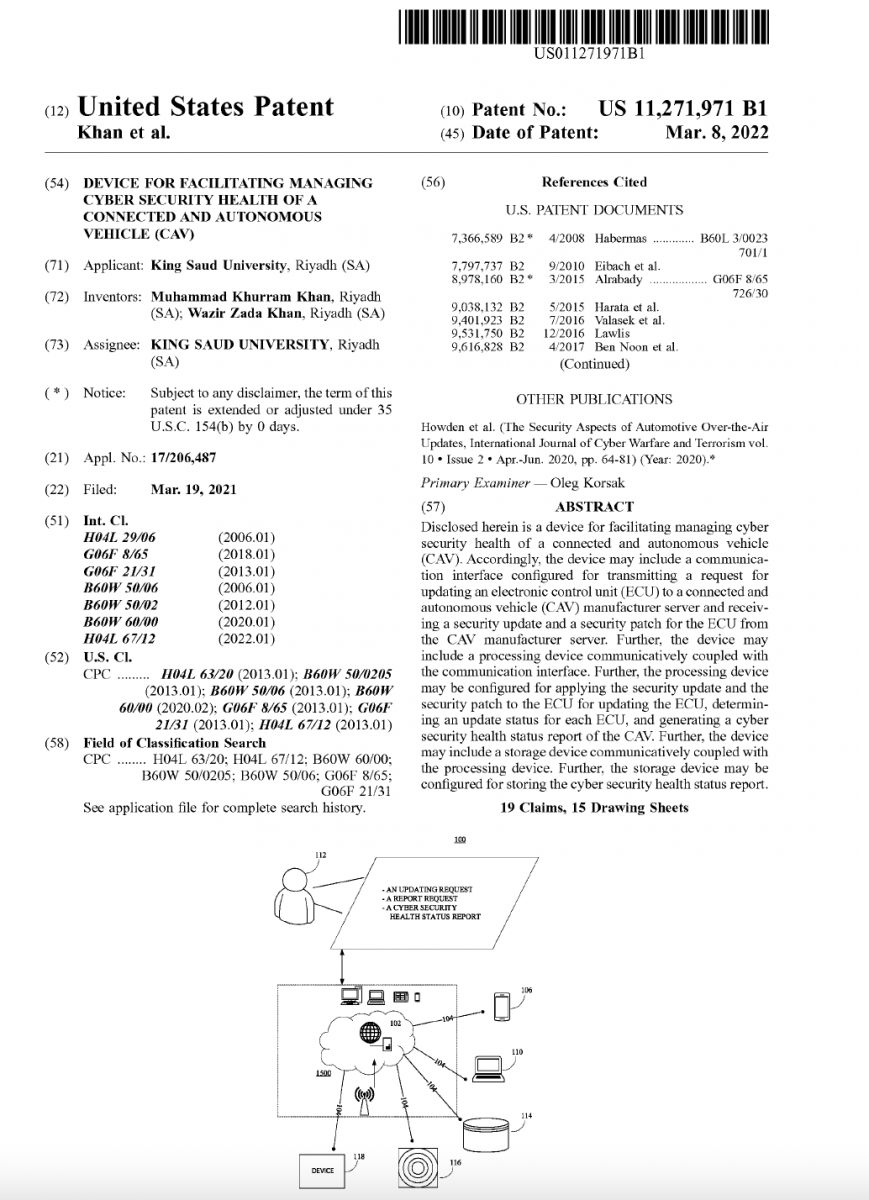 This invention is intended to implement cybersecurity in connected and autonomous vehicles (CAVs) through a device that can be used to install Over-the-Air (OTA) security firmware updates and patches to the electronic control units (ECUs). It also keeps track of and displays the cybersecurity status of the CAV through a health report, so that its users remain vigilant, updated, and protected from hacking and security breaches.
Prof. Muhammad Khurram Khan, the patent's lead inventor and exploring research in vehicular and automotive cybersecurity for over a decade, explained that connected and autonomous vehicles will play a crucial role in the future of mobility, particularly in smart cities. It can help reduce traffic accidents and congestion, as well as greenhouse gas emissions, and make transportation more accessible to diverse parts of society.
On highlighting the benefits of CAVs, he said, "The global connected car market size is expected to be over USD 225 billion by 2027, which would provide a multitude of benefits through connectivity, safety, eco-friendliness, convenience, reduced-cost, and extended facilities to its users."
 
He further explained, "Technological innovations are revolutionizing the future of transportation, which will be more connected and autonomous than ever and will depend upon bleeding-edge technologies including 5G/6G, AI/ML, Cloud Computing, IoT, Sensors, Big Data, Blockchain, and Cybersecurity."
 
To highlight the dark side of CAVs, Prof. Khurram said, "Unfortunately, like any connected device, CAVs can also be hacked, and their failure through hacking is more fatal than a normal computer, as it could crash a vehicle and hurt the passengers, pedestrians, and people around them."
While underscoring the importance of this invention, he said that it is imperative to regularly install firmware updates, security patches, and perform security scans of vehicles to protect them from cyber vulnerabilities and data breaches. Implementing and updating seamless Over-the-Air (OTA) security should be a top priority for the vehicle manufacturers and users in their regular routine, and our invention provides this solution in an efficient, secure, and trustworthy manner.
The co-inventor of this patent, Dr. Wazir Zada Khan, highlighted that the development of connected and autonomous vehicles (CAVs) has led to dramatic changes in the automobile industry. This is because of its advanced functionalities, features, and services for the ease and comfort of consumers.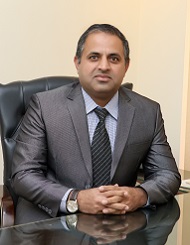 Dr. Wazir further explained, "It is important to note that the major hurdle in the consumer acceptance of CAVs is the lack of awareness about the security status of their privately owned or shared CAVs that ultimately leads to under or over-trust issues, creating an obstacle to their widespread adoption."
The co-inventors are looking for licensing or commercialization opportunities for this patent, and hope that it could provide a competitive edge to automotive manufacturers who implement this invention into their vehicles. 
It is to be noted that this invention is an outcome of a funded project (DRI-KSU-934) from the Research and Development Office of the Ministry of Education, Saudi Arabia. The inventors expressed their gratitude to the Deanship of Scientific Research at KSU for the logistical and moral support for their invention.