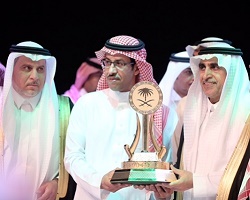 The Kingdom's Minister of Education and Chairman of the Saudi Universities Sports Federation Azzam Al-Dakhil has bestowed the Shield of Sports Excellence to King Saud University for its performance in the tournaments of the Saudi Universities Sports Federation in the current sports season.
The KSU also received a one million SR award in the closing ceremony as a prize money.
The ceremony was held at Hamad Al-Jasser Hall, King Saud University in the presence of university vice rectors and the President of the Sports Federation of the Universities of Saudi Arabia and advisor to the Minister of Education for student activities Professor Walid Bin Abdul Razak Al-Dali.
The ceremony was presided KSU vice Rector Abdullah Al-Salman on the behalf of the KSU Rector Badran Al-Omar with Abdaziz Al-Othman, vice Rector for Academic Affairs, Dean of Student Affairs , Director of the  Sports Agency Abdullah Al-Salimi.