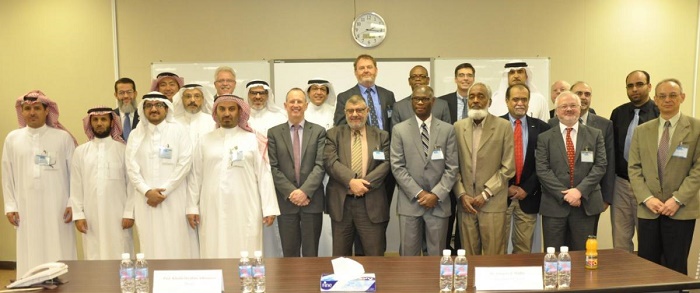 As continuation of the Engineering College's efforts to get the international and national accreditation for the betterment of academic performance level, and after a year of preparation for the accreditation of the National Commission for Assessment  and Academic Accreditation (NCAAA), an external team of evaluators from the NCAAA reviewed B.Sc. programs of Electrical Engineering, Surveying Engineering, Industrial Engineering and Petroleum and Natural Gas Engineering during the period from 26 to 30 April, 2015.
The accreditation team included three members for each program. The assessment sessions for the college and the B.Sc. programs reached 44 sessions.  The result of this visit is considered to be positive for the four programs as was revealed during the closing meeting. It can be noted that the B.Sc. programs of civil engineering, chemical engineering and mechanical engineering were reviewed and evaluated during the month of May 2014. A final decision on the seven academic programs is expected in the month of December of the current year 2015. 
In addition, the academic accreditation focuses on eleven criteria divided into five key areas:
1. Institutional context (Mission and Objectives - Authorities and Management - Quality Assurance Manager);
2. Quality of teaching and learning;
3. Student learning (student support and management services - learning sources);
4. Infrastructure support (facilities and equipment - management and financial planning - Employment) operations;
5. Community contribution (scientific research - institutional relations with the community).
Related News