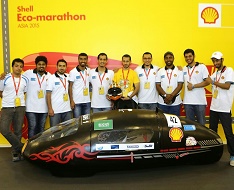 A team of KSU's Engineering College students participated in 'Shell Eco-marathon 2015', which was held during the period between February 26 to March 1, 2015 in the Philippine capital Manila which was attended by more than 120 teams, representing 17 countries from all over the Asia-Pacific, Middle East and Africa, including new participants from Saudi Arabia, Australia, Bangladesh, and the Sultanate of Oman.
KSU's team achieved overall ninth place in the marathon was a great achievement of the University team because that it was  the first participation in the marathon.
The team included: Baddy Alkeziz, Abdulkhaliq Alsultan, Omar Abunyan, Nayef Ahoikan, Walid Algaylan, Abdulrahman Alsati, Hussam Mohammed Almuhaize and Mohammed Hassan Alyafei from the Department of Mechanical Engineering, and Abdulkarim A'lait,  Mohammed Alfayez and Mohammed Saeed Bayounis from the Department of Electrical Engineering. The team was supervised by both Dr. Abdulmohsen Al Bedah, and Dr. Mohanad AlAta.
Moreover, the Engineering college team expressed their deep happiness for participating in this competition against teams representing universities and technical institutes from 16 countries, stating that their first goal is to take advantage of this experience and develop plans to enable them to solve energy-related issues.
Further, this marathon allowed teams to participate in the experimental vehicles or modern vehicles class. The teams participating in the category of experimental vehicles design cars of the future, which are effective vehicles that focus on raising the efficiency of fuel consumption to the maximum extent possible through the use of elements of creative and innovative design. The modern vehicles category focuses on designing efficient high fuel consumption vehicles that can be used on the roads, and aims to meet the daily needs of drivers.
KSU team members explained that they designed the gasoline-powered vehicle, and have applied their technical expertise in maintaining the lightness of the vehicle weight in order to increase fuel efficiency. The team used their creative skills in designing the car aerodynamics with precision and care.
In addition, Saudi Arabia participates for the first time in this global contest organized by the company «Shell» annually, starting 6 decades ago, to design, manufacture and testing of energy-saving cars. In this competition there were two teams representing Saudi Arabia: King Saud University team and King Faisal University team, but the later one did not finish the competition unfortunately.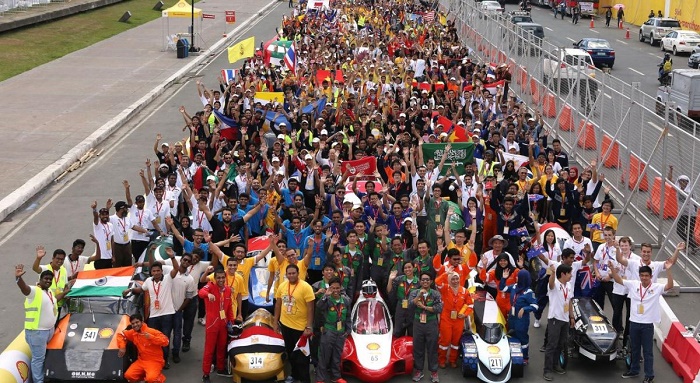 Related News