Prof. Khurram Delivers Keynote Speech at the IEEE International Conference on Computer and Information Sciences
The second IEEE International Conference on Computer and Information Sciences (ICCIS) is being organized by Jouf University from 13-15 October 2020. The aim of this conference is to provide a platform to the local and international scientists and practitioners, from both academia as well as industry, to share cutting-edge developments in the fields of Cybersecurity, Artificial Intelligence, Internet of Things, Blockchain, Cloud Computing, Computational Intelligence, Computer Vision, Data Science, and Computer Networks etc. This year, the ICCIS is organized virtually due to the current unprecedented times.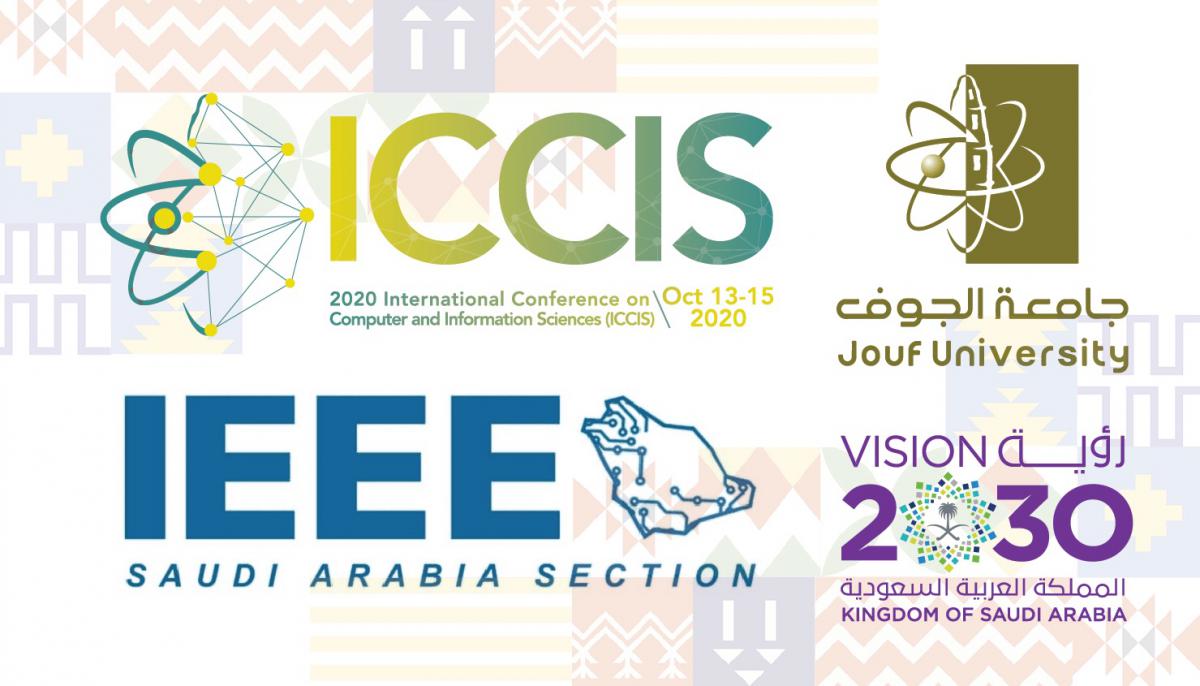 The inauguration of the overwhelming conference took place on 13th October by Prof. Mohammed Al-Shaya, the Rector of Jouf University. In the opening speech, Prof. Al-Shaya extended his gratitude to the Kingdom's leadership for the continued support and providing seamless education to the students during the challenging times. He also thanked the conference organizers for their dedication and efforts in building a platform through this conference to exchange ideas and establish collaborations for fruitful research outcomes aligned with Saudi Vision 2030.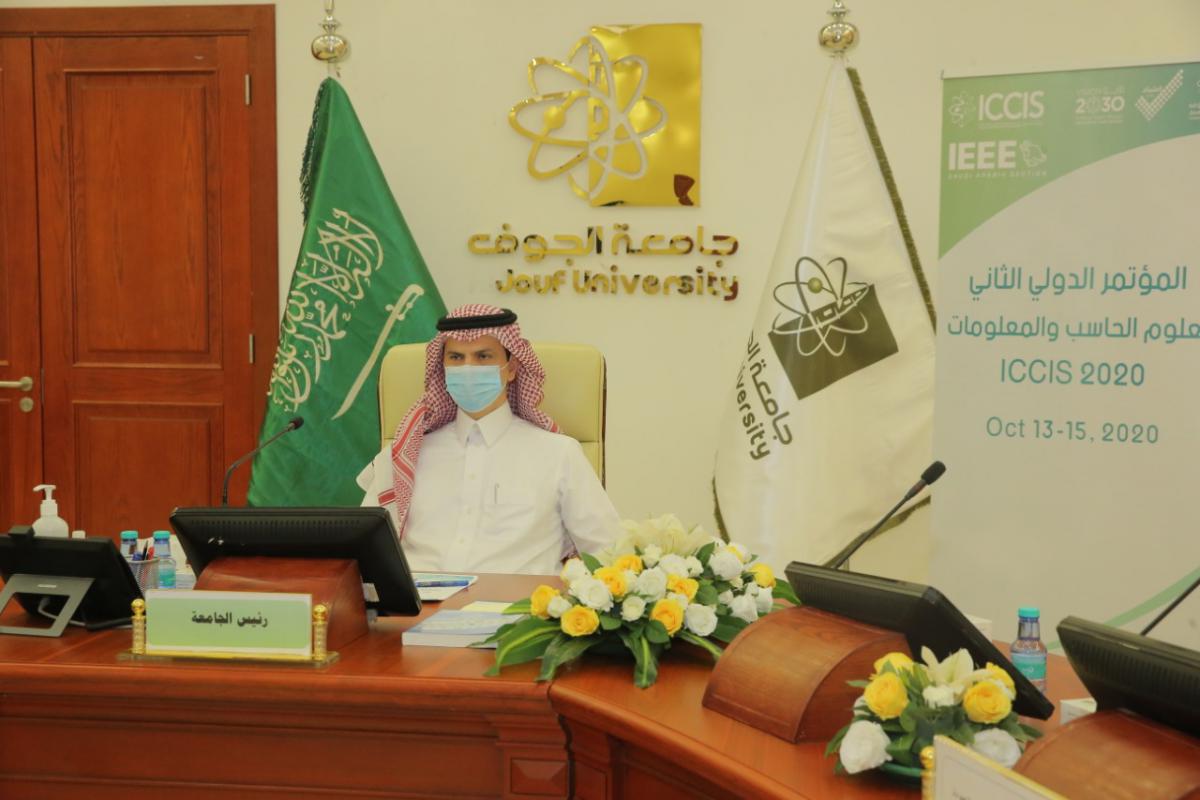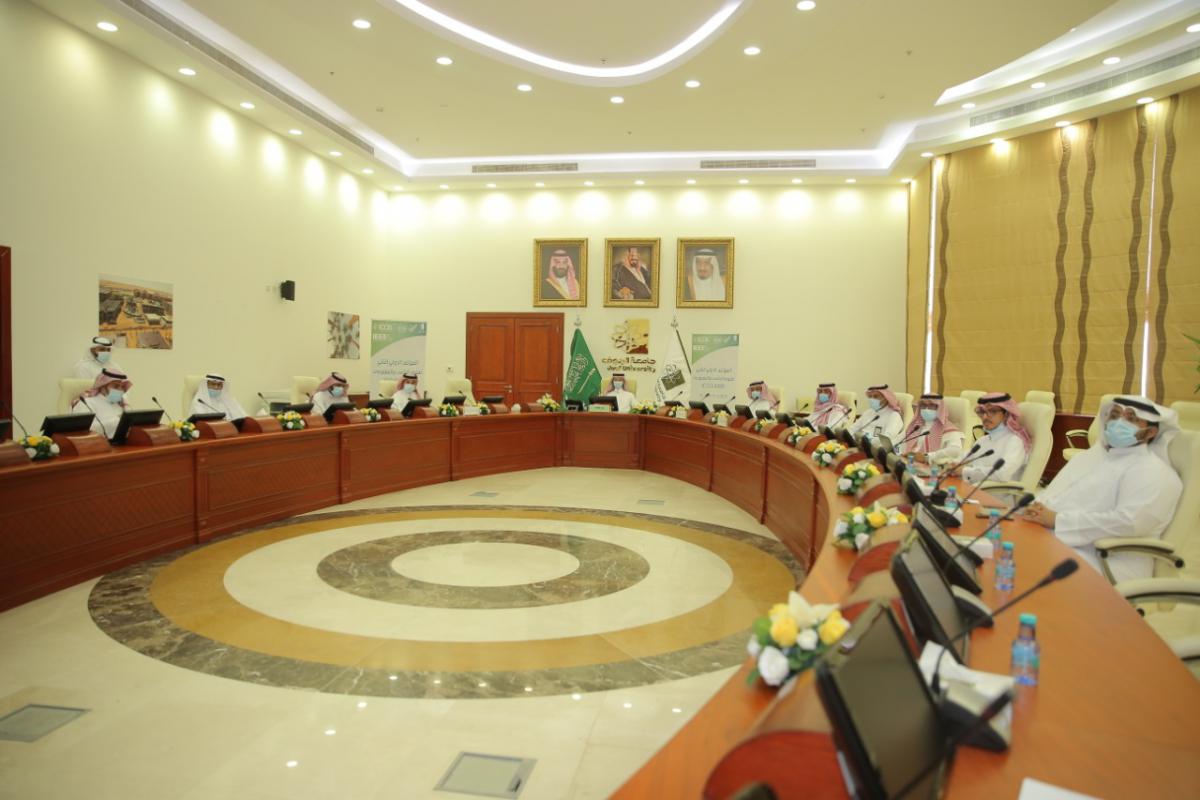 After the rector's speech, Dr. Madallah Al-Ruwaili, the General Chair and the dean of the College of Computer and Information Sciences, gave an overview of the conference. In his speech, Dr. Al-Ruwaili stated that the three-day conference is expected to attend by scientists, researchers and professionals from 29 countries. He further explained that ICCIS received over 335 papers from around the world and only 110 research papers were accepted after a rigorous evaluation process performed by local and international review committees. The opening ceremony was physically organized at the Jouf University and attended by a large number of university officials as well as by the online attendees from around the World.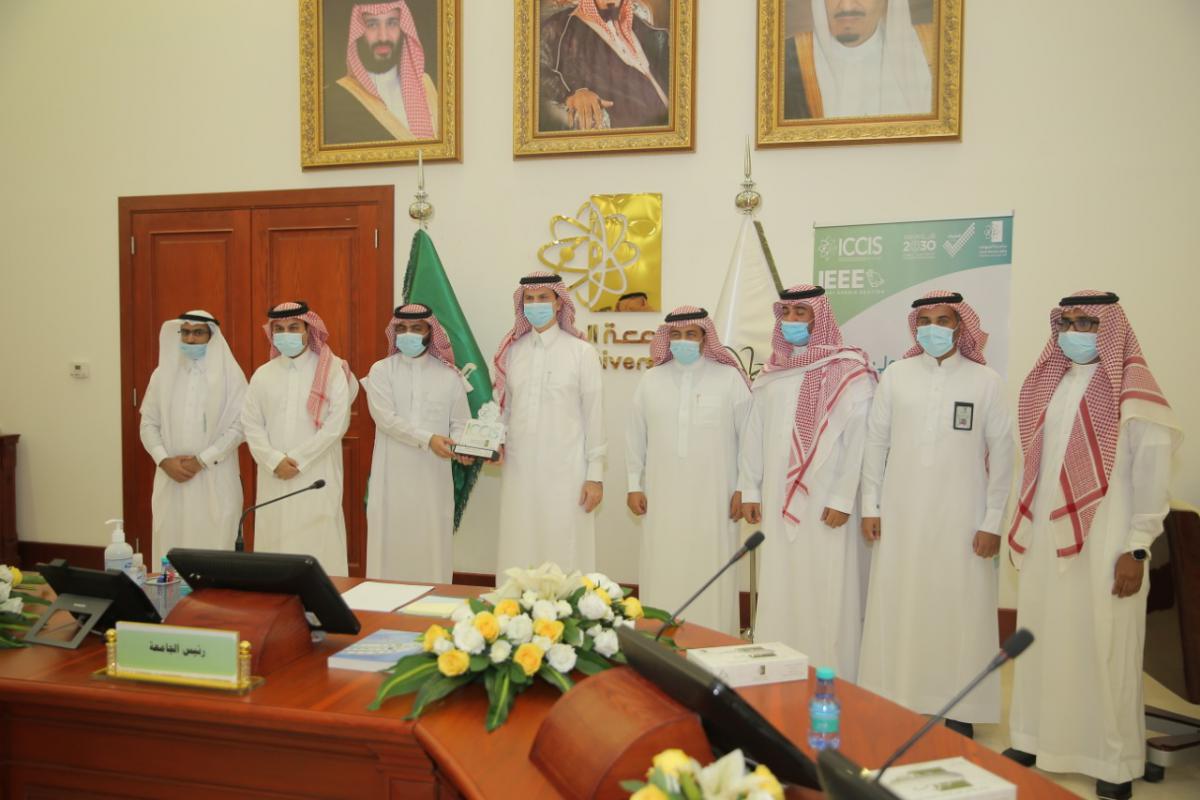 Prof. Muhammad Khurram Khan, a distinguished professor of Cybersecurity from the Center of Excellence in Information Assurance at King Saud University was invited as an opening keynote speaker at this overwhelming conference. In his keynote entitled, "Cybersecurity and Cyber Crimes in the Hyper-Connected World", Prof. Khurram said, "Criminal activities in cyberspace are increasing exponentially and cyber attackers have found an opportunity during the COVID-19 pandemic to ramp up their attack tactics through ransomware, phishing and malware attacks. Every individual and organization is on the radar of cyber criminals with a higher risk of becoming the next victim. Whether it's about safeguarding data, critical infrastructure or personal information, the impact of cyber-attacks should never be underestimated and overlooked at any cost".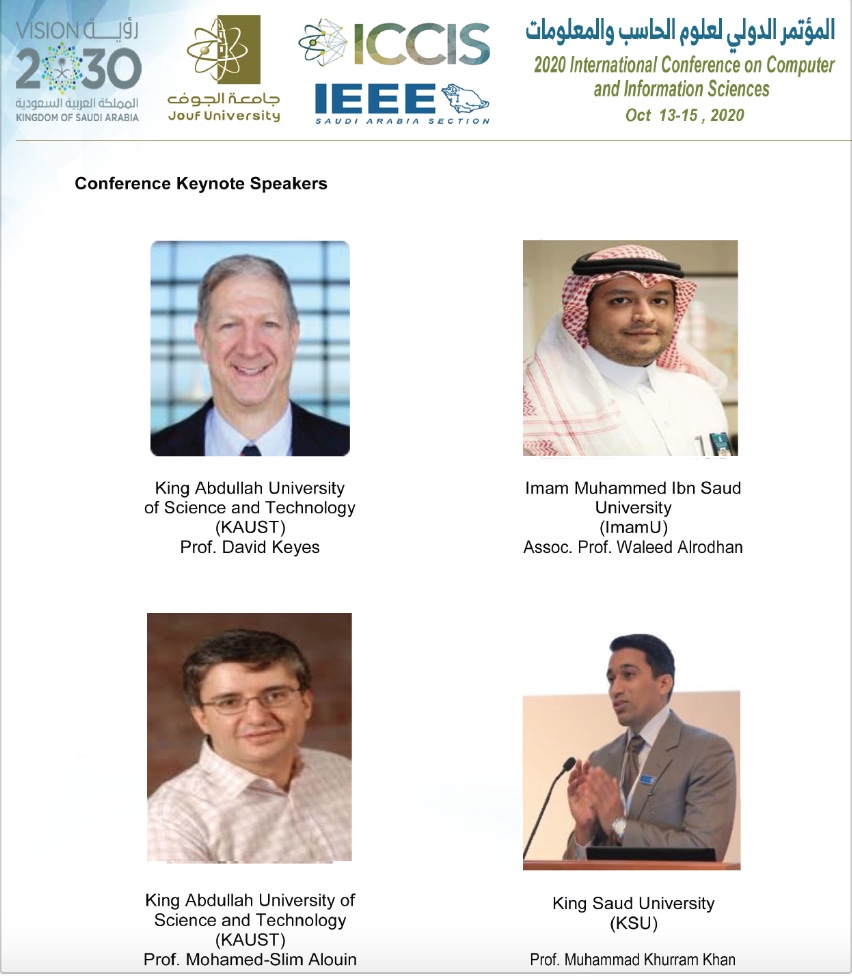 To highlight the modern dynamics of cyber-attacks, he further explained, "In the modern hyper-connected world, the new targets of state and non-state adversaries are industrial control systems, safety instrumentation systems, IoT and 5G networks, which are the backbone of the fourth industrial revolution and critical infrastructure. On the other hand, while data remains a prime target, a new wave of cyberattacks could make serious impact on political or social values, compromise national security and sabotage the critical infrastructure of any nation. And this all could be done through evasive and evolving techniques of social engineering in which human is considered the weakest link of security chain, zero-day exploits that target publicly known but still unpatched vulnerabilities, sophisticated malware, and adversarial AI and machine learning based attacks that are more targeted and complex in nature to prevent, detect, deter and respond".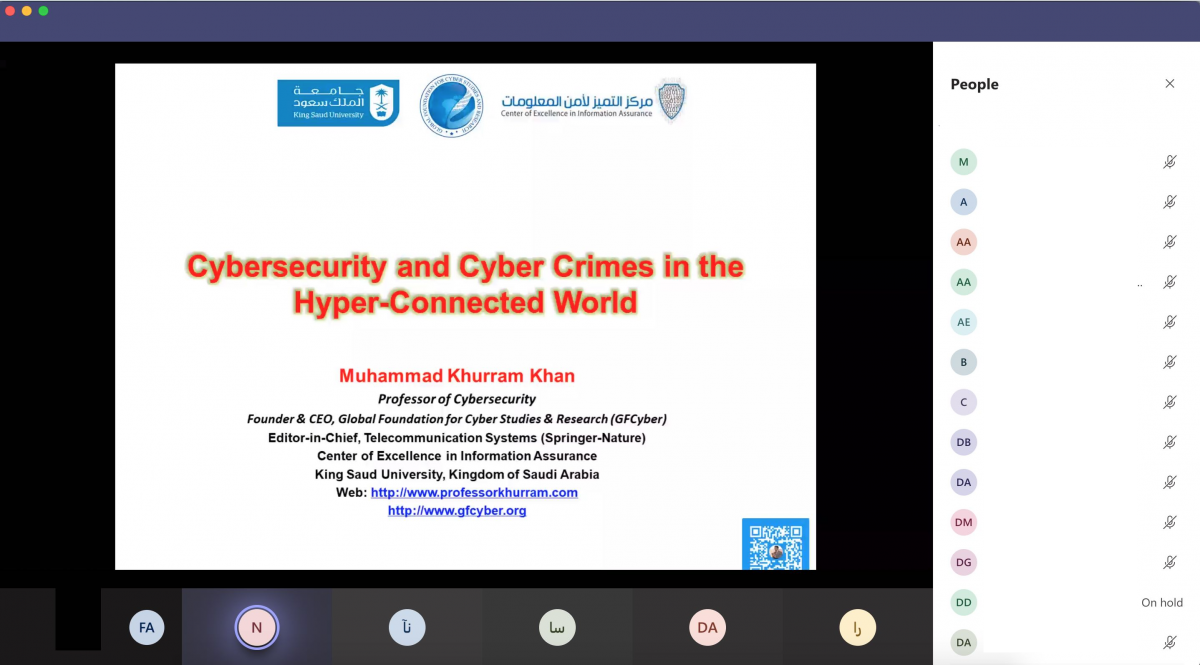 He also explained how 'cybercrime-as-a-service' model is leveraged by cyber criminals against nation-states and high-tech organizations to perform advanced persistent threats (APTs), distributed denial of service (DDoS) attacks, ransomware, disruption of services, and espionage operations etc. By giving a reference of a report published by 'Cybersecurity Ventures', he mentioned that in 2019, cybercrime damages cost the world USD 2 trillion and  expected to grow at USD 6 trillion by 2021, which is more profitable than the global trade of illegal drugs and higher than the GDP of some developed countries.
To underscore the local cybersecurity posture, he said, "Saudi Arabia is a regional leader in digital transformation and its cybersecurity market size is going to be over USD 5.5 billion by 2023, but still Saudi business organizations are in the crosshairs of cyber criminals. According to a study conducted by Symantec, cyber-attacks are threatening 69% of the Saudi firms and the reason is that over 64% Saudi firms lack basic cybersecurity policies and controls to protect them. Fortunately, the National Cybersecurity Authority of Saudi Arabia has developed 'Essential Cybersecurity Controls', which may help the local organizations to beef up their security, especially in the recent chaotic times".
At the end of his keynote, Prof. Khurram shared some solutions and recommendations and said, "To combat the cybercrime ecosystem, the first thing we need to understand is that cybersecurity is our shared responsibility. We need to build an ecosystem that should provide the general public with cybersecurity awareness and cyber hygiene practices to protect from cyber criminals and online risks. Our universities and institutions need to launch cybersecurity academic and hands-on training programs to prepare skilled cyber workforce, and establish capacity and capability building programs at the national level. Partnership, engagement and collaboration of public and private sector, civil society, and academic institutions is indispensable. In addition, the global tech companies could play a vital role to bolster cybersecurity and fight against cybercriminals and their networks for a resilient, safe, and peaceful cyberspace".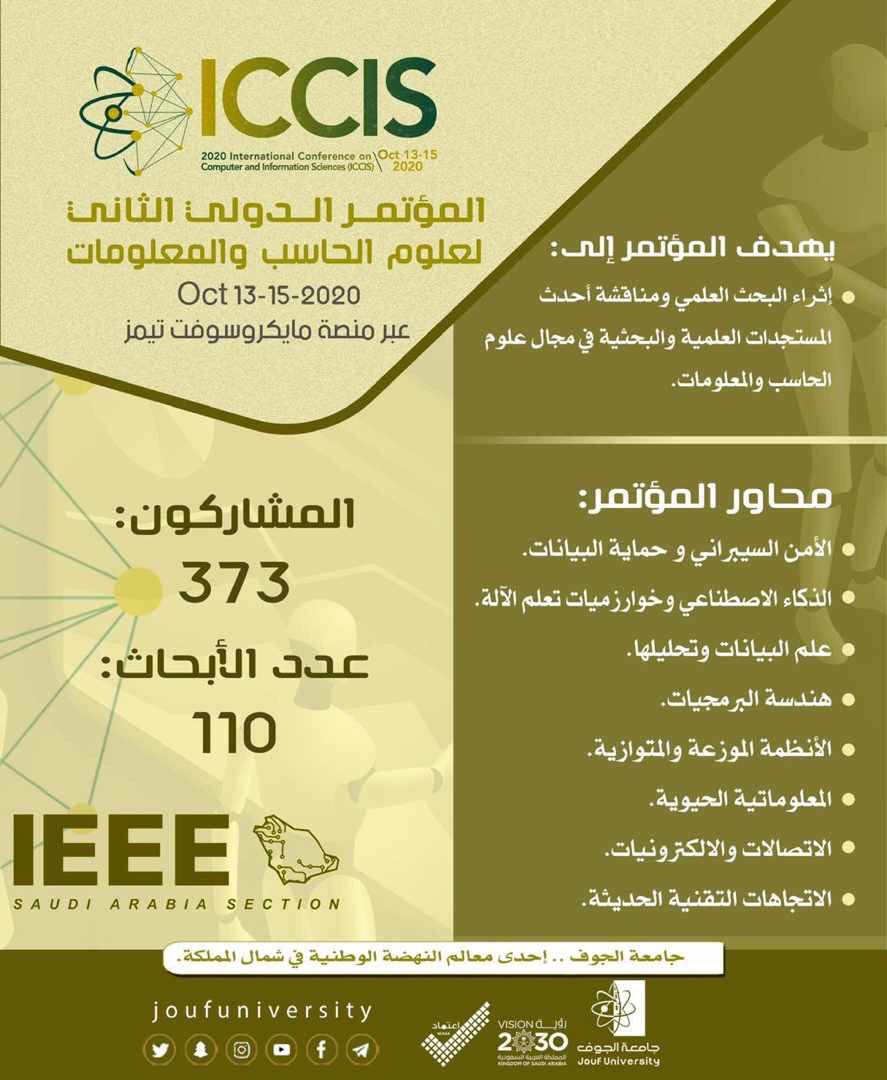 The conference will continue until Thursday 15 October 2020 with regular paper presentations by local and international researchers. In addition, three more keynote speeches by distinguished scientists including, Prof. David Keyes (King Abdullah University of Science and Technology), Dr. Waleed Alrodhan (Al-Imam Muhammad Ibn Saud Islamic University), and Prof. Mohamed-Slim Alouini (King Abdullah University of Science and Technology) will also be presented during the next two days on different topics of computer communications, cloud computing and cybersecurity. 
*Photos courtesty Jouf University